Details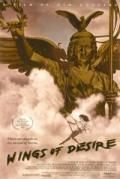 Title

Wings of Desire

Director

Wim Wenders

Cast

Bruno Ganz, Solveig Dommartin, Peter Falk, Otto Sander, Curt Bois

Length

130 min.

Released

1987
Review
Wings of Desire more than makes up for its minor failings by being almost incomparably beautiful. The scattershot plot is held together by the love story at its core. It is kind of all over the place, flitting from one thing to the next, but this is built in to the story. Wings of Desire sets up its premise and follows it all the way down the line.
The sometimes ponderous dialogue, including the almost unfortunate closing monologue, is overshadowed by the cinematography. Every single shot in the film the equal of anything outside of the film. At times it can bring you almost to tears just for its beauty.
There are several undeniably cool music cameos, as the characters take in sets by Crime and the City Solution and Nick Cave and the Bad Seeds (yeah, that's Blixa there in the back). This is almost as cool as when the Yardbirds show up in Blow-Up.
The City Pages opined that if this had been made by Spielberg it would have been better. Luckily, everyone knows that the City Pages is full of shit. With a premise like this Spielberg would be able to do nothing but turn in the tackiest, tritest piece of sentimentalist crap that was ever put to film*. Give me Wim Wenders and his elephant any day.
* With the possible exception of Mr. Holland's Opus.
Rating

7/8

Reviewer

Published