Details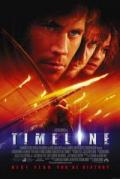 Title

Timeline

Director

Richard Donner

Cast

Paul Walker, Frances O'Connor, Gerard Butler, Billy Connolly, David Thewlis

Length

138 min.

Released

2003
Review
The Past and the Furious.
So, despite the time travel plot so full of logic holes you find yourself surprised when you leave not to find any errant bits of Paul Walker stuck to your clothes, and the acting so second rate you are surprised to see, as the credits role, that neither Casper Van Dien nor Dean Cain actually appeared in this one, it holds your attention for the entire runtime. And it gives you plenty to gripe about afterwards. They stole their twist from 12 Monkeys. They could have cut the time travel plot and would hardly have had to change a word of dialogue. Paul Walker's character doesn't really seem to serve a purpose. Most Americans can barely understand Shakespeare, some grad-student named Pierre is not going to be able to understand Frenchmen from several centuries earlier.
This is not as bad as the Guy Pierce The Time Machine.
Rating

2/8

Reviewer

Published