Details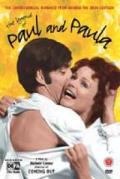 Title

The Legend of Paul and Paula

Director

Heiner Carow

Cast

Angelica Domröse, Winfried Glatzeder, Heidemarie Wenzel

Length

106 min.

Released

1973
Review
This is the only romantic comedy that I know of in which the female lead dies in childbirth within the last minute of the movie.
Apparently this was the most popular movie in the history of East Germany. That is understandable, for in the entire history of film there is no movie that is more East German than Paul and Paula. Not only does Paula die at the end, we don't even see it happen; we are told in voice-over. There are Soviet comedies that are less bleak. The leads are distinctly unattractive and look as though it hurts them to be alive. And it's packed full of that GDR rock and roll that the kids are clamoring for.
It's an exact cross between Sleepless in Seattle and that Edison film where they electrocute an elephant. Whether they know it or not, when people say communism doesn't work: this is what they mean.
Rating

0/8

Reviewer

Published