Details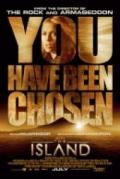 Title

The Island

Director

Michael Bay

Cast

Ewan McGregor, Scarlett Johansson, Djimon Hounsou, Sean Bean, Steve Buscemi, Michael Clarke Duncan, Ethan Phillips

Length

136 min.

Released

2005
Review
Say what you will about Michael Bay's powers of discretion, he's a man who knows the value of shit getting blown up.
Yeah, this is a whole lot of generic. I mean, the number of times I caught Logan's Run references almost qualifies this as a remake. But once they get outside they get explosions and car chases, not Peter Ustinov pretending to be retarded. Thank god.
The movie splits cleanly into two distinct halves. The first half is a not-quite-as-smart-as-it-thinks near-future science-fiction. The second half is a marginally-smarter-than-it-deserves-to-be Michael Bay-style actioner. They work together because we never have that much invested in either one individually.
Some of the dialogue induces (if you're lucky) cringing. The bit about Steve Buscemi taking a dump in a can makes you (briefly) wish Ewan McGregor were speaking his Star Wars lines. Thankfully, the rest of The Island reminds you what fun you can have at movies made by and for idiots. Or, at least, it passes the time. And damn if shit doesn't get blown the fuck up.
Rating

3/8

Reviewer

Published