Details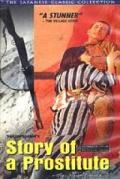 Title

Story of a Prostitute

Director

Seijun Suzuki

Cast

Yumiko Nogawa, Tamio Kawaji

Length

96 min.

Released

1965
Review
Few films have ever been directed with such fearless exuberance as this 1965 Japanese World War Two picture. A lynchpin of the Japanese New Wave (Yeah, everyone had one after the French) it is equal parts Breathless and Paths of Glory. Only with a satiric element of the absurd thrown in for good measure. And an anything-goes punk style that even Godard didn't fully embrace until the later part of the decade (see Alphaville and Weekend), and never to such visceral effect.
The story follows a spurned woman who signs in to the military prostitution program and is sent along with six others to serve as the Comfort Women to a batallion of 1000 soldiers fighting in the Manchurian province of China.
The story hurtles forward with such fiery resolve, and the style flails and rampages with such reckless abandon that it is inevitable, really, and little disappointment that the film derails itself before the end.
Suzuki is better known for his similarly hyperstylized gangster melodramas (Tokyo Drifter, Branded to Kill) and his constant trouble with the studios (he was fired for Branded to Kill).
To say that Suzuki was ahead of his time would imply that he would have been welcomed at some later time. And while he may be largely responsible for the current wave of Japanese pop underground (Shinya Tsukimoto, Takashi Miike), Suzuki remains a movement unto himself, and Story of a Prostitute is a wonderful place to start on it.
Rating

6/8

Reviewer

Published