Details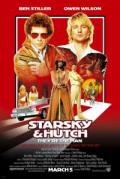 Title

Starsky and Hutch

Director

Todd Phillips

Cast

Ben Stiller, Owen Wilson, Vince Vaughn, Juliette Lewis, Snoop Dogg

Length

101 min.

Released

2004
Review
Snoop Dogg is skinny as fuck. That's the most memorable part of Starsky and Hutch. The best joke in the film is Ben Stiller saying "Do it" over and over. Sound promising?
Well, it's not awful. There are a few parts that, to borrow one of the few good lines from Mr. Show, bring you to the verge of laughter.
There are a number of low-level cameos. Amuse yourself with those.
Rating

3/8

Reviewer

Published