Details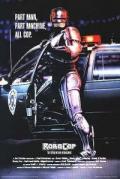 Title

Robocop

Director

Paul Verhoeven

Cast

Peter Weller, Nancy Allen, Ronny Cox, Kurtwood Smith, Dan O'Herlihy, Miguel Ferrer, Ray Wise

Length

103 min.

Released

1987
Review
This is the best argument against Hong Kong.
What you may not remember from watching Robocop many years ago is how damn funny it is. Bloody as it is (get the extended version on the Criterion DVD: two added minutes, primarily of bullet wounds) it seems to be primarily a satire. And it bites. The recurring joke with the television program ("I'd buy that for a dollar!") is both funny (every time) and remarkably prescient.
This is a convincingly possible near-future anti-utopia. Appropriately taking place in Detroit, the whole society appears to consist of cops and criminals. The movie is blessed with casting to spare, Miguel Ferrer, Ray Wise (Leland Palmer, Twin Peaks), Dan O'Herlihy (also Twin Peaks, he was old man Packard), Peter Weller of course, Ronny Cox, Red (Kurtwood Smith) from That '70s Show. It goes on and on. And they all turn in first rate performances. Miguel Ferrer, as one of the intricate web of corrupt or evil OCP executives is so good (so angry), that we are sorry to see him die.
This is so much better than either of the Terminators it doesn't even bear side-by-side examination. The real question is "is it better than Total Recall?" It's certainly got some advantages: better actors, more probable future. Total Recall does have a twistier plot, though. In the end all we can conclude is: what the hell happened to Paul Verhoeven? [ed.-- yes, it is better than Total Recall.]
Rating

6/8

Reviewer

Published