Details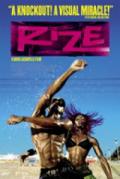 Title

Rize

Director

David LaChapelle

Cast

Lil C., Tommy the Clown, Tight Eyez, La Niña, Miss Prissy

Length

86 min.

Released

2005
Review
Rize follows the inception and evolution of a particularly high-energy style of dance indigenous to South Central Los Angeles. The film takes place over a period of several years, although the impression one gets while watching it is of it continually taking place in the present. The originator, as improbable as it sounds, is Tommy the Clown. The dancing, it follows, is called Clown Dancing. After serving several years in prison as a drug dealer, he decides to turn his life around and do something productive for the community. He forms a hip-hop clown business, doing birthday parties and the like. After a while he starts taking on apprentices. They paint their faces and do dance and comedy routines at parties. The dancing, however, is particularly innovative, purportedly not quite like anything else on earth. Over the course of the years Tommy's Clown group spawns many immitators who paint their faces and perform variants of the same style of Clown Dancing. Inevitably, it also spawns another style that takes itself more seriously (i.e. they don't wear clown makeup) called Krumping.
The dancing is beautiful and fascinating, but the film lacks focus. It careers through the history of the style and interviews with various luminaries and never quite grasps any meaning or insight within it. That the meaning is self-evident and self-defining within the dancing iteself is not the salvation of an otherwise unaware film. In fact mcuh of the film leaves us disappointed that LaChapelle didn't let the dancing stand on its own merits. Frequently, performances are cut short or shuffled into quick-fire montage sequences which give the impression of movement but never let us really see anything. As a documentary film it is mediocre. As an advertisement for the existence of a largely unknownstyle of dance, it is invaluable if substantially short of fantastic.
The element most fundamentally lacking from Rize is a more developed focus. About three quarters through the film a relatively monumental event occurs: Tommy the Clown organizes a head-to-head dance competition held in a huge arena, the Clowns vs. the Krumpers. The two teams are composed of seven or eight dancers, each fitting a particular age/gender category. They compete in one on one showdowns which are voted on by audience applause. This is essentially what amounts to the Odyssey of the Mind of dancing. Disappointingly, we only get to see a handful of the individual performances. It ends up seeming more like a commercial for the event than a documentary of it. I, for one, should have liked to have seen more emphasis on this, maybe a half an hour or so of necessary background and history (which, of course, should be mostly composed of dance footage), then the big competition. Or maybe make it into a Tommy the Clown biodoc with smaller tangents about krumping and so forth. Or something, anything to give the film a more directed sense of purpose. I left the theater thinking that this was an interesting style of dance, and wishing it had been given a better film.
Rating

3/8

Reviewer

Published