Details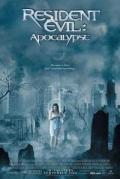 Title

Resident Evil: Apocalypse

Director

Alexander Witt

Cast

Milla Jovovich, Sienna Guillory, Oded Fuhr, Thomas Kretschmann, Sophie Vavasseur

Length

93 min.

Released

2004
Review
First the big question: The surprise nudity at the end of Apocalypse is neither as surprising nor as nude as the first Resident Evil.
Yes, Milla Jovovich is back as the zombie-fighting, occasionally naked, Joan of Arc, which is one point in the films favor. That'll only carry a movie so far, though. Sienna Guillory is the zombie-fighting other-hot-chick, the game's Jill Valentine. Mike Epps, as the zombie-fighting black guy, surprisingly survives the whole film. He is, however, relegated to gangster-charicature comic-relief.
The plot has something to do with the evil Umbrella Corporation letting the lethal T-virus infect (and reanimate) all of Raccoon City, loosing the killer Nemesis mutant thing, shooting civilians and nuking the city.
Resident Evil: Apocalypse one ups the woman-Predator love plot from AVP with a tense triangle between Jovovich, Jill Valentine and the Nemesis thing. It's kind of beautiful.
Rating

2/8

Reviewer

Published