Details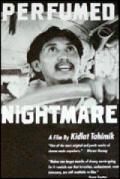 Title

Perfumed Nightmare

Director

Kidlat Tahimik

Cast

Kidlat Tahimik, Dolores Santamaria, Mang Fely, Georgette Baudry, Katrin Muller, Harmut Lerch

Length

91 min.

Released

1978
Review
This movie is exceedingly hard to come by, but more than worth it if you can. You may remember Kidlat Tahimik from Werner Herzog's Every Man For Himself and God Against All, he was the Indian flautist in the circus. Indeed, any film that garners a glowing quote from Herzog on its cover is worth looking in to.
Sincerely amateurish, astonishingly inventive and many more adverb/adjective pairs, Perfumed Nightmare simply cannot be recommended highly enough.
The story follows Kidlat, a simple, content Jeepni (like a Tobasco colored taxi) driver in the Philippines. He is the President and founder of the local chapter of the Werner Von Braun fan club, and dreams of being an astronaut, or at least traveling to America, where he might be closer. A rich American hires him to travel with him to France and be his personal driver. The caricature American, played by a German with a ridiculous "American" accent (sort of the reverse equivalent of Harrison Ford's Russian one in K19: The Widowmaker), is hilarious. At first he is delighted by the ever-present technology, which to him already seems like a bizarre future-world. He starts being introduced around to society and becomes increasingly disafected.
Brimming with surreal touches, Perfumed Nightmare manages to be both fairy tale and truth. So alive it seems in perpetual danger of eating itself, so alive that we can feel it dying. Do whatever you can to find Perfumed Nightmare, it will renew your love of movies.
Rating

7/8

Reviewer

Published