Details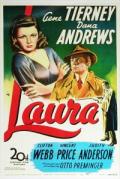 Title

Laura

Director

Otto Preminger

Cast

Gene Tierney, Dana Andrews, Clifton Webb, Vincent Price, Judith Anderson

Length

88 min.

Released

1944
Review
On the surface, this 1944 noir-comedy has almost nothing in common with the 1990 premiere season of In Living Color. But when you watch them side by side, all sorts of connections start to appear.
For example, Laura features a young, pre-moustache Vincent Price. In Living Color was hosted by Keenan Ivory Wayans. Both are creepy.
With a plot that has more twists than the Fly Girls, Laura keeps surprising you. See, and it turns out David Allen Grier isn't dead, either. And though the tone is semi-light-hearted and bitingly-comical, Laura hides the cynical view of human nature indigenous to the noir genre.
You know, Otto Preminger is cooler than Frank Capra any day of the week. And you know homey don't play that.
Rating

6/8

Reviewer

Published