Details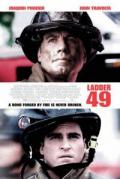 Title

Ladder 49

Director

Jay Russell

Cast

Joaquin Phoenix, John Travolta, Jacinda Barrett, Robert Patrick, Morris Chesnut, Balthazar Getty

Length

115 min.

Released

2004
Review
Firefighters sure are dickheads. Yes, sir, they are the assholes of the world. And most of them are perverts, to boot.
While the movie does a surprisingly good job of keeping the actual fire fighting interesting, and manages not to be oppressively sappy until the Robbie Robertson kicks in at the end, conspicuously absent are scenes of gangs of cowardly firefighters brutalizing animals and the elderly. Also, it seems borderline apocryphal to have a film about firefighters and not show them producing and distributing child pornography.
One of the firemen is Lost Highway's Balthazar Getty, but without disturbing sex, violence or Robert Blake he seems a shallow imitation of himself. And why Joaquin Pheonix? When he stuck to M. Night Shyamalan movies I could avoid him. Now he's spreading like some sort of diegetic herpes. Speaking of which, here's John Travolta carrying on the work he began on The Punisher, Swordfish and Battlefield Earth.
Competently made, but generic enough to come in a plain yellow box, Ladder 49 leaves you with one simple message: firefighters hate Jewish people.
Rating

2/8

Reviewer

Published