Details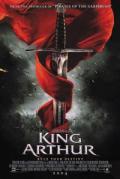 Title

King Arthur

Director

Antoine Fuqua

Cast

Clive Owen, Stephen Dillane, Keira Knightley, Hugh Dancy, Ioan Gruffudd, Stellan Skarsgaard

Length

130 min.

Released

2004
Review
This is a step above Troy in almost every respect. Clive Owen outperforms the entire Trojan cast by himself, and Keira Knightly has a more convincing ship-launching face than Helen. The battles are filmed without the extreme-closeup camera-shaking excitement-cinematography, so you can actually tell what's going on. And thinking back on the movie afterwords you realize it is comprised almost entirely of battle scenes. It's pretty much a sequence of battle scenes buffered by shots of Arthur standing amid the corpses on the battlefield.
King Arthur is a list of Hollywood conventions, the characters with single defining characteristic, etc. But the only one that bothered me was Hans Zimmer's worthless melodramatic score.
Conventional wisdom holds that the more fog a movie has, the better it is. This is not entirely true. The Fog was bad not because it lacked fog, but because it was a genuinely bad movie. King Arthur has more fog than Troy, more fog than Cold Mountain. But it isn't just a fog movie, that's just the icing on the cake.
Rating

4/8

Reviewer

Published