Details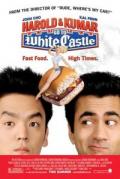 Title

Harold and Kumar Go to White Castle

Director

Danny Leiner

Cast

John Cho, Kal Penn, Paula Garces, Neil Patrick Harris, David Krumholtz

Length

88 min.

Released

2004
Review
"Let's get retarded" the openening song tells us. Then it does. The film follows the so-lowbrow-it's-highbrow pattern of its forebearer Dude, Where's my Car, though it is never quite so close to avant garde in its lack of pretention. It is, however, a much better movie. It resolves itself far more satisfyingly.
Like Dude it has some parts that are simply stupid: the deformed hick, the hot chicks shitting, etc. But it has glimpses of comic genius: Neil Patrick Harris, the "Extreme" white guys, Jaime Kennedy peeing in the woods. Basically, this movie is worth seeing just for the bits with Neil Patrick Harris, who plays himself.
After the movie, Pat, Baron and Mark went to White Castle. No adventures were had.
Rating

4/8

Reviewer

Published