Details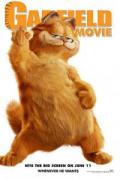 Title

Garfield

Director

Peter Hewitt

Cast

Bill Murray, Breckin Meyer, Jennifer Love Hewitt, Debra Messing, Stephen Tobolowsky

Length

80 min.

Released

2004
Review
It's got the cat from the Princess Diaries 2. And late in the game Garfield and Odie commit attempted homicide.
Bill Murray gives not only the worst performance of his career, but, probably, the worst performance of the movie.
It could have done to be several steps closer to Cujo. Instead it is relentlessly insipid Family-Friendly nonsense, that contains one good joke (about prison-suicide), and otherwise makes you long for the comparative genius of TV's Garfield and Friends.
Breckin Meyer as Jon? Jennifer Love Hewitt as Liz? Yo, Breckin, can I get some shoelaces in here?
Rating

1/8

Reviewer

Published