Details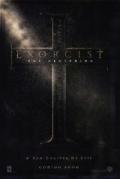 Title

Exorcist: The Beginning

Director

Renny Harlin

Cast

Stellan Skarsgaard, Izabella Scorupco, James D'Arcy, Remy Sweeney, Julian Wadham

Length

114 min.

Released

2004
Review
The rating for this one was tricky. So let me elaborate. The first three quarters of the film are bristling with suspence. It's real by-the-numbers generic, but its creepy as hell. Stuff happens, but most of the early parts of the movie (after the pointless prologue) have you cringing at the expected breakdown. But when that finally comes, it comes as a great disappointment. When we finally encounter Satan, or the Satan-possessed, it's like an Exorcist parody. Satan quips at Stellan Skarsgaard, and you can tell its Satan, 'cause man is he foul-mouthed.
Really, what prevents the movie from slipping into general worthlessness is Skarsgaard, who is a good actor (he even gave a good performance in King Arthur), and he's hammered the ex-priest's world-weary boozed out cynic perfectly. I don't quite buy his sudden return to faith at the end (actually, that's just about exactly the point at which it becomes a bad movie), the flashbacks to his nazi-related trauma are so generic, and the evident CG makes the inherently generic confrontations explicitly hokey. And why in the name of god did they digitally place Skarsgaard into a picture of Rome at the end? Couldn't they actually film him there?
Because, priest, god is not here today.
Rating

3/8

Reviewer

Published