Details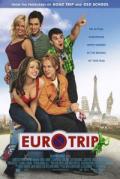 Title

Eurotrip

Director

Jeff Schaffer

Cast

Scott Mechlowicz, Jacob Pitts, Michelle Trachtenberg, Travis Wester

Length

89 min.

Released

2004
Review
I have seen German art movies about gay people that devote less screen time to penises. There's also a whole lot of T, but not very much A.
First, the good news: this isn't as actively unpleasant as the preview made it look. Now, the bad news: the French cover of My Generation over the opening credits is the funniest part of the whole movie.
This is not to say that the movie is not funny. Aside from the spells during which it is not, Eurotrip is reasonably funny. There is nothing as clever as Pac-Man or Penelope from Club Dread, but it is more consistent.
The characters are your stock teen comedy cliches: the likeable loser (more loser than likeable), the friend who looks, talks and acts like David Spade (only not quite so irritating (after all he isn't David Spade)), the friend who is a hot girl but who no one realizes is a hot girl until they've suddenly fallen in love, and the nerd who is inexplicably a friend of the other three (in this case they attempt explication by way of making him hot girl's brother).
Bottom line: at least its not Adam Sandler.
Rating

3/8

Reviewer

Published