Details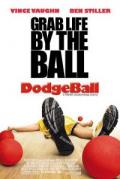 Title

Dodgeball

Director

Rawson Marshall Thurber

Cast

Ben Stiller, Vince Vaughn, Christine Taylor, Justin Long, Stephen Root

Length

92 min.

Released

2004
Review
I can't tell if Ben Stiller hates himself and hates his audience or if he loves himself and hates his audience. In any event his presence in Dodgeball represents the peak of his ascent from mildly irritating pseudo-celebrity to really fucking irritating superstar complete with Mike Myers funny-becase-its-not-funny jokes.
The rest of the cast gamely turns in a blatantly unmemorable, but undeniably funny movie. The story follows a band of misfits as they try to win $50,000 (75,000 Canadian) in a dodgeball tournament in order to save their gym from forclosure. Most of the good jokes, though, are throw aways on the periphery, if at all related to the plot. Dodgeball has a lot of borrowed jokes, ones that make you sit up and go, "wait a minute". Most of these jokes, however, get such common usage as to qualify as public domain (who hasn't used "I just threw up in my mouth a little bit"?).
Dodgeball is often (okay, occasionally) smartly self-aware of its stupidity, without crossing (Mike Myers again) into smug irony. The 'deus ex machina' joke at the end almost makes up for Ben Stiller's incomparably grating performance, and was almost certainly missed by all the Starsky and Hutch fans who came to see people get hit with wrenches.
Although, to be fair, the wrenches are funnier.
Rating

4/8

Reviewer

Published