Details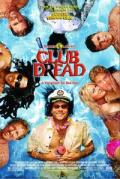 Title

Club Dread

Director

Jay Chandrasekhar

Cast

Bill Paxton, Lindsay Price, Steve Lemme, Kevin Heffernan, Jordan Ladd, Jay Chandrasekhar

Length

103 min.

Released

2004
Review
There are a couple genuinely clever bits in this slasher parody. There are also a disappointingly generic ending and a nagging feeling throughout that this isn't as funny as Super Troopers. In fact, this isn't quite as a lot of things as Super Troopers. But, this is more one thing than Super Troopers: nude. That's right, while not as much so as Eurotrip, this movie is pretty naked.
These guys are clearly better actors than most of their idiot-comedy compatriots, but really that just means they're each a different charicature every film (rather than the same one, you see). And Bill Paxton is pretty funny as a Jimmy Buffet knock-off.
So, there are two really good jokes in the movie. But what's the bottom line? At least it's not Adam Sandler.
Rating

3/8

Reviewer

Published