Details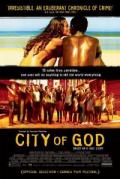 Title

City of God

Director

Kátia Lund

Cast

Jonathan Haagensen, Matheus Nacthergaele, Seu Jorge, Alexandre Rodriguez

Length

131 min.

Released

2002
Review
Comfortably occupying the space between Gillo Pontecorvo's Battle of Algiers and Ringo Lam's Full Contact, City of God is an interesting mix of naturalistic docu-drama and hyper-stylized over-the-top Hong Kong action.
On paper I have a hard time believing that anyone who speaks Portuguese could take themselves seriously enough to be a gangster, but these guys are pretty convincing. Apparently, these slum kids don't know what a ridiculous language they are speaking.
This has the multiple divergent storylines that became so popular after Pulp Fiction brought them into the mainstream. However, these are more interesting storylines, and they come together more frequently (and convincingly) than any Tarantino knockoff.
City of God was up for some high profile Oscars (Best Director, Best Cinematography, Best Original Screenplay), and it well deserved each of the nominations it got.
This is also very violent. Another plus. In fact the only downside of the whole movie was that I spilled some of my chicken lo mein on my clothes, it being difficult to eat properly in the dark. They should have a policy against allowing me to bring food into the theater.
Rating

5/8

Reviewer

Published