Details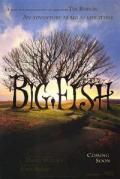 Title

Big Fish

Director

Tim Burton

Cast

Ewan McGregor, Albert Finney, Billy Crudup, Jessica Lange, Helena Bonham Carter.

Length

125 min.

Released

2003
Review
Remember Tim Burton's Planet of the Apes? Then you will be pleasantly surprised with how little this one sucks. There are those of us who remember when we could hope for more than that from a new Tim Burton movie, or at least who claim to. But you can tell those of us to quit bitching and enjoy the movie. And we can. It's enjoyable enough.
There are a few great scenes sprinkled (exclusively) throughout the flashbacks, but nothing that compares to the Joker and the three and a half foot pistol he pulls out of his pants. Or PeeWee's tequila dance. Or (et cetera). Billy Crudup manages to be blandly inoffensive throughout (and really, what more can you ask of the man?). Lindsay Lohan is made up to look uncannily like a young Jessica Lange. Everybody acquits themselves admirably, except for Tim Burton's picturesque but soulless child-actors who acquit themselves, nonetheless, all over their little piece of the movie.
When it comes down to it, the movie flirts with but avoids overt hokeyness, and leaves you with a generally pleasant feeling towards another decent but unmemorable movie.
Rating

4/8

Reviewer

Published