Details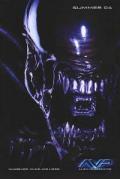 Title

Alien vs. Predator

Director

Paul W.S. Anderson

Cast

Sanaa Lathan, Raoul Bova, Lance Henriksen, Ewen Bremner, Colin Salmon

Length

100 min.

Released

2004
Review
This movie contains: aliens, predators, Spud from Trainspotting, some pretty entertaining fight scenes, what seems like the beginning of a love story between the female lead and a predator, a worse approximation of archaeology than even Tomb Raider, Lance Henriksen, and one penguin.
This movie does not contain: character development, believability, Arnold Schwartzenegger, Sigourney Weaver, Jesse Ventura, any memorable lines, aside from Spud anything resembling an actor or a performance.
It's like if you took the indie credibility away from Cube and added aliens and predators.
Rating

2/8

Reviewer

Published