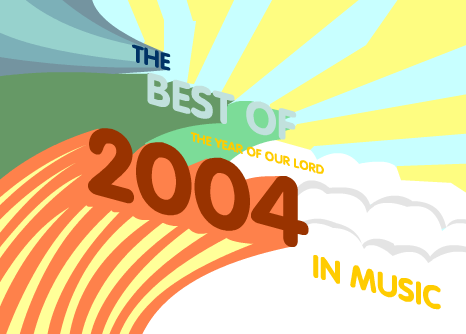 Do you know this list was originally supposed to be done by New Year's? We were completely on track to have it done, too, despite some last-minute additions and squabblings. But it didn't get even close to done, and eventually the new deadline defaulted to April 1, which seemed fitting enough, and, one thing failing to lead to another, here we are moving into the latter third of the following year, and I'm knocking together a stopgap text-only runthrough, if only to get the '04 list done before the '05 list goes up.
People will give guff to 2004 as far as music goes (they will! I've heard them), but they pretty clearly don't know from good years. It was genuinely painful to have to rank some of 2004's albums lower than others, as staggeringly good as many of them were. I'm still waiting for some this year to really make me stagger as much as I did last year, on several non-consecutive occasions.
But anyway, on with it: a list representing almost two years' worth of languor and angry stagnancy, and what we were listening to the whole time through.
- Noah
---
OREN AMBARCHI

GRAPES FROM THE ESTATE

Ambient drones and plucks with actual melodies hidden somewhere in the haze. Each of the albums four 10+ minute pieces are compositionally distinct and resolutely refuse to be dismissed as background music, except maybe the first track.

MONO

WALKING CLOUD AND DEEP RED SKY, FLAG FLUTTERED AND THE SUN SHINED

Just another strong outing from these generic post-rockers, this time more crisp via Steve Albini production. Slightly subdued and more climative than the Mono before, Walking Cloud somewhat compares to Mogwai's Rock Action transformation from Young Team. If only the virus were this good.

THE OWLS

OUR HOPES AND DREAMS

Librarian Rock. Quiet, sweet, smart, strong. Not too captivating, never annoying, always nice. Littered with influences but still unique. The Owls are librarians from the cool, peaceful state of Minnesota, and they play naïve melancholy pop tinged with John Lennon odes. Just sit down next to a warm fire, open your favorite book, and press play.

PATRICK WOLF

LYCANTHROPY

No majestic royals, no polite argumetns held over cups of tea and certainly no loving strangers, Patrick Wolf's Lycanthropy portrays the grimier mud covered cobblestone streets of Britain; fueled by the self-relieant nature of Wolf's orphan youth, with lyrics which may have come from Oliver Twist's nightmares, including burnt down houses and generous yet unrelenting child molesters, Lycanthropy presents a somewhat disturbing yet endearing orphan's guide to the country.

FELIX DA HOUSECAT

DEVIN DAZZLE AND THE NEON FEVER

An experience much akin to tapping your plastic G.I.s to a bottle rocket: fun, energizing and uplifting, but it's been done before; Devin Dazzle and the Neon Fever is a low turbulance "Rocket Ride" through that 70's disco club with flashing dance floors you've always dreamt of reviving.

ISIS

PANOPTICON

Here's a real scoop: Isis aren't just "that metal band that crossed into indie category thanks to their artsy-fartsy label Ipecac". They are, in fact, more subtle than that: instead of the brick-headed hardness that sours up other metal, Isis dare to focus on clockwork and repetition, channeling Krautrock throughout. The sparse vocals are dispersed into just the right areas, elevating both the "wow" factor and the "this song just kicked my ass" factor. And if the death vox irk you, then allow me to direct you to Sissyville, Pussystan.

BJORK

MEDULLA

Ms. Guðmundsdóttir's vocals are so distinctive, so unique and profound, that a proposed record made of vocal samples leads to the worst expectations. That Medúlla is flawed hasn't been controverted by anyone; its foundation is its concept. However, what is remarkable about Medúlla is just how much of it works, how much if it stands up to repeated listens, how varied it is in spite of its make-up (all vocals, the rare digital manipulation), and, in addition, how unified it feels in light of its variety and experimentalism. Picking a highlight is difficult, because so much of Medúlla stands out in a unique way, even moreso due to its unforeseen accessibility. "Oceania" treats a choir like a string section, waxing over clicking beats and Björk's pagan poetry; "Triumph of a Heart" emerges as the ultimate dance-infected anthem; and "Who Is It" finds Debut and Post's house stylings clothed in an Icelandic cave garb. Medúlla goes toe-to-toe with the best of Björk's experiments, with nothing to fear but your own expectations, and "Where Is the Line."

RJD2

SINCE WE LAST SPOKE

PANDA BEAR

YOUNG PRAYER

This intensely personal and introspective album from Animal Collective's Panda Bear is the far somberer B-side to Sung Tongs-- the acoustic strum is still there but seems far less mid-day sun-drenched and more bathed in sunset. The songs were written during and about the passing of Panda's father, and the mood reflects that; rather than being caught up in celebration of youth, Young Prayer celebrates life and wisdom.

AIR

TALKIE WALKIE

Having crated the soundtrack to a million cars-a-rockin', the soundtrack to a Sofia Coppola film, and an easily appreciated but turgid experimental second outing, Air reach their zenith, singing their songs on their own (thank god!) and bringing in Nigel Godrich to bring the music into a whole. And though we love us some post-rock (see #49), Air might just win the awards for the best two instrumentals of the year: "Mike Mills"' soaring strings flooded our hearts, and "Alone in Kyoto" ... god!

THE LIKE YOUNG

SO SERIOUS

Okay. So Serious may not be that good of an album name, and The Like Young aren't the most creative or inventive of bands, but who really cares? Their quick hitting twenty-four minutes of sweet pop-punk will keep me crooning ooo's and ahh's for pleanty of time to come. With this album, the hard working Ziemba spouces finally started receiving some of the attention they deserve.

THE ADVANTAGE

THE ADVANTAGE

Sure, it's not as great as an album of NES covers has every right to be, but it's still pretty essential listening, if not all the way through at once. These guys are clearly good at what they do, and they've made one of the more effectively novel novelties in recent memory.

MOUSE ON MARS

RADICAL CONNECTOR

Mouse On Mars, moving through every emotional nook and cranny of electronic music, perennially hip, entirely cool, mocho artisans, decide they have one thing on their mind and one thing only: how much junk you got in your trunk? And we were happy to oblige, bumpin' through the drill-percussion of "Spaceship" and the practically orgasmic chorus of "Wipe That Sound". You might not hear this at a club, but fuck those guys. Seriously.

ON!AIR!LIBRARY!

ON!AIR!LIBRARY!

Turning on the eponymous debut from the New York based On!Air!Library! is like passing into another dimension. It's like the journey of a troubled, suburban dwelling teen lost within the dangerous downtown at night. It's like surviving a blasting shock of lightening. It's like a beautiful summer's day quickly spoiled by a surprise hurricane. Dark and tense, On!Air!Library! is like a dream: reality through a filter. All nine tracks of this electronics heavy shoegaze album are distinct and memorable, and will undoubtedly make you feel lost in the most familiar of places.

MIRAH

C'MON MIRACLE

One of 2004's most delightful surprises. Mirah was never one to sit in one place for too long, but C'mon Miracle might be her first record where she communicates clearly, writing songs succint enough to excuse her the responsibility to stay in one place. Yes, it's schizophrenic: the opening quarter of the record is a kaliedoscope of sombre folk, alterna-pop and harmless feedback. And we also have love songs, dazed psychedelics and what wrestled with "Peace Attack" for the rank of 'best protest song of 2004'. If C'mon Miracle is indie-pop, then it remains effectively separate from other popular brands -- If You're Feeling Sinister revivalists and electronic-spliced pseudo-Wilsons -- and we'll always love it more for that.

FROG EYES

THE FOLDED PALM

Frog Eyes have managed to keep their raw, carnivalesque output up to the same quality level for three straight albums in as many years (more if you count acoustic solo albums and side projects), and if The Folded Palm doesn't quite stand up to The Golden River as an album, its singles certainly do: "The Oscillator's Hum" is possibly their best work to date, while "Ship Destroyer" and "The Fence that Felt Its Post" are crammed with enough hirsute and web-footed energy to fill their brief running times to bursting.

MODEST MOUSE

GOOD NEWS FOR PEOPLE WHO LOVE BAD NEWS

It took half the year before I realized that Good News For People Who Love Bad News wasn't the transitional, flawed record coming after troubled times that I thought it was when I first heard it, but, rather, it was an epic work, wealthy in ideas, dramatic in scope. The type of scattershot, idiosyncratic greatness Good News achieves is most comparable to Rain Dogs in not only spirit but even in more superficial ways, such as how Modest Mouse reveal their love for the gruff-voiced Waits on circus oddities like "The Devil's Workday." It can be heartbreaking, with "The World At Large" and "Blame It On the Tetons," and then proceed to channel the Talking Heads ("The View"), and lacquer Mousean melodies in subtlety ("Bury Me With It") or chorus ("Black Cadillacs"). And to top it off, there was the anti-Death Cab For Cutie in "Float On," the summer mega-hit that will be Modest Mouse's "How Soon Is Now," in that its genesis through devil-may-care experimentation is not only immediate and spontaneous, but transcendent and, okay okay, infinite.

JASON FORREST

THE UNRELENTING SONGS OF THE 1979 POST DISCO CRASH

Allow me to explain: boop dee boop dee boop, boop chhc hh duh duh boom DUH DUH ... WHRRR ... DUH DUH, duhdillydundillydundillydundillydun boom DUH DUH ... WHRRR ... DUH DUH, duhdeedeehundeedundun ... okay, forget it.

THE ARCADE FIRE

FUNERAL

Hipstre backlash!

INTERPOL

ANTICS

They are playing in a major key? This shit tastes godawful!

OF MONTREAL

SATANIC PANIC IN THE ATTIC

And the world's most inessential band gives you... something essential. Definitely one of 2004's more interesting break-outs, Of Montreal went from years of relative Elephant 6 obscurity to their own flashy psychedelia, brimming with color and originality but reaching for some nostalgia, in their most musically varied record. Satanic Panic In the Attic was the sugar-coated blotter paper that had us all seeing what we were missing.

LALI PUNA

FAKING THE BOOKS

And so electro said to rock, "Baby, there ain't no reason we can't be together." And then Faking the Books was born in that copulation, with rock drums and guitars that spike melding with synths and programming. And then Valerie Trebeljahr stood in front of her band, sounding like a German Ice Queen. It was a lot better than it looked on paper, with the title track making us all cry in our beers and "Call 1-800-Fear," "Micronomic" and "B-Movie" holding onto our brain like it were carbon monoxide and it were a red blood cell. And we all fell over dead.

THE DECEMBERISTS

THE TAIN

What the fuck? Right, well, from the Decemberists, that dorky band with a singer like ol' Jeff Mangum that plays dork-pop and writes songs about the Civil War and pirates comes a little bit of metal to shove up your CD player. And it's pretty good, a full EP composition that never gets boring and rests on a rising organ/guitar riff. Colin Meloy isn't Mikael Akerfeldt, but Opeth aren't the Decemberists.

BIBIO

FI

Being endorsed by ol' Mr. I'm From Boards of Canada helps any electronic career take off, and Fi's got ideas out the wazoo, with ambient suites and unprocessed guitar riffs ("It Was Willow...") that beg you for a reason as to why we can't all like ambient music.

APOSTLE OF HUSTLE

FOLKLORIC FEEL

This is almost worth the price of admission for the opening track, a flourish of the Carabbian instrumentation found all over Folkloric Feel with driving percussion. Broken Social Scene's Andrew Whiteman and co. layer keyboards, bass, and so forth on top of the lovely tres, only to come down on a cloud, accompanied by Andrew's gorgeous voice. The rest of the record is good, too.

BRIAN WILSON

SMILE

Oldie-but-goodie/lost classic status aside, Smile is just a really good album.

JIM GUTHRIE

NOW, MORE THAN EVER

Despite my not knowing him, Now, More Than Ever has me thinking that Jim Guthrie is a really nice guy. Take just the inviting, friendly and catchy guitar lick that opens and bases "Problem With Solutions," and listen to Guthrie's voice. The record is ravished in the most smooth but extravagant instrumentation, yes, but right there you have Now, More Than Ever. It doesn't hint at the violent violin jolts midway through the record, but it's always there, like a friend you could rely on-- and unfortunately I bet a nice guy like Jim Guthrie has heard that a lot.

TED LEO AND THE PHARMACISTS

SHAKE THE SHEETS

ANNE LAPLANTINE

DICIPLINE

Anne Laplantine takes the Books' style of cut-and-paste pop musique concrète and eschews the sometimes fascinating but often silly as hell reliance on speech samples, whittling the tunes down to bare-bones guitar melodies. Dicipline is happy to leave its tales unfinished, its songs without a finish. Instead of writing out a final chapter, Anne Laplantine just goes onto her next idea, making Dicipline one of the biggest flurries trapped in a supple record of unusual hooks and deceivingly simple composition.

LIARS

THEY WERE WRONG SO WE DROWNED

2004 was better for Halloween music than it'll be remembered for being: Wolf Eyes' Burned Mind was the blood-soaked slasher flick, only without the obligatory tit-scene, and They Were Wrong, So We Drowned was... well, what? The idealized M. Night Shyamalan film? With a genuinely engaging atmosphere instead of cheap jump-scares? It might even make more immediate sense to liken They Were Wrong to House of Leaves ("Read the Book That Wrote Itself"?), at least more than Walpurgisnacht and Salem's Lot. But that doesn't work either: all the empty space between the damaged guitar and skittery percussion in "Broken Witch" doesn't eclipse its spiritual/devilish mantras; and while the house on Ash Tree Lane fits into the formlessness of "If You're a Wizard Then Why Do You Wear Glasses?," the demonic screams at the end do not. The tribal drums in "We Fenced Other Houses With the Bones of Our Own" seem less a product of Zampano's imagination and more like something from the infamous Italian cannibal films. All thsi huff'n'puff made They Were Wrong appear more concept-heavy than it actually is when, frankly, it dodges literal interpretation, for better or worse. Therefore, in its heavy mood, in its no-wave composition and architecture (or lack thereof), They Were Wrong, So We Drowned is the horror movie we'll never get to see.

DEVENDRA BANHART

NINO ROJO

As you well know, 2004 was the year folk musicians decided to kick ass, in albeit their unique but sissy and wimpy sort of way. Rather than storm in, we had a whole lot of musicians singing songs about animals, plants, and insects, with some psilocybin mushrooms in between-- and Devendra Banhart is arguably (but barely so) the leader of the pack, with two albums full of material worthy of your time. Nino Rojo is so good that it deserves to be considered with its companion, Rejoicing In the Hands. Like the Use Your Illusions, only they sucked ass.

JOANNA NEWSOM

THE MILK-EYED MENDER

I have a problem with people who have a problem with people who "can't sing", and that is the foremost complaint I have heard re The Milk-Eyed Mender and, specifically, Joanna Newsom's singular warble. It could, admittedly, be off-putting to people who are conservative about their ideals of vocal euphoniousness, but why bother to be that? Be that and you are, in this particular case, blinding yourself to the wealth of incredible songwriting Joanna Newsom showcases on this terrific but, again, warbly, debut. The call is yours.

BLACK MOTH SUPER RAINBOW

START A PEOPLE

Changing little other than the human quality of their vocal technique, BMSR have transformed completely from Falling Through a Field, evolving from an electronic pop band to a singular entity, a hazy, pastel distillation of dance, pop and electronic music, seen through the eyes of an idealistic eight-year-old and his robot friend. Astralwerks rejected this record because they "just didn't like it". I'm fairly certain they'll end up kicking themselves over that one.

BLACK DICE

CREATURE COMFORTS

It's noisy, but it's quiet. It's abrasive and mechanical but melodic and natural. It's forty-odd minutes of pure unadulterated je ne sais quois, and yet you'll find yourself trying to whistle the melody to "Night Flight" on the bus. For fans of contradictions in terms, and also things that are awesome.

TARANTULA

TARANTULA

I thought I was done with post-rock. I set down my Do Make Say Think for Stars and Metric, with Canada moving on and by gum I thought I was right with 'em. I left Lift Yr. Skinny Fists Like Antennas To Heaven in the CD rack and averted my eyes, lest I not break and thrust it ravenously into the stereo, and got on with my life. I thought I was done with all the bombast, the drama, the climax, man!, you hear me?? Fuck, I even bought Bee Thousand. Oh, but no! Here comes Tarantula to pick me up on the comedown of my (passionate) affair with the Godspeed and throw me into a half-hour of strings, cyclical movements, builds, crescendos -- you hear me! crescendos!!. "But it's classical," Zeff insisted. Maybe, man, maybe it isn't post-rock, and maybe I'll just learn to stop worrying and love Tarantula.

IRON AND WINE

OUR ENDLESS NUMBERED DAYS

Another nice record that we loved so much (see: #24), Our Endless Numbered Days was a success in that it glossened over the production of its excellent predecessor while leaving Sam Beam's beautiful, raw voice untouched, which is so necessary because it makes even the most bungling lyric (not that there are many, ahem) seem golden and gorgeous. That's a feat in and of itself, but it also deserves note that the songcraft here is improved over its predecessor, showing Iron & Wine's gradual formation into a band rather than a dude with a tape.

DEATH FROM ABOVE 1979

YOU'RE A WOMAN, I'M A MACHINE

Goddamn these guys. When the "Romantic Rights" video revealed itself on my television, I was repelled by the Vegas glam, the flashing lights and synth-bassist Jesse Keeler in the suit, coupled with the t-shirt and scraggily looks of drummer-vocalist Sebastien Grainger. The video came on again and I averted my eyes, only to want-to-hate-but-like the song, just in time for the pressure to kick in: as if from some oblique musical Keyser Soze, there was praise from all sides for You're a Woman, I'm a Machine, urging me to try it. I wanted to hate it, but damned if I could hold myself to do so: in the year of the folk and the Arcade Fire, Death From Above 1979 make sentimentality easy, adding (x)emo to (y)Lightning Bolt, glossing it over with I-can't-believe-it's-not-pop-production and dressing it in more attitude than you can shake a guitar at. Few albums have fucked with me as much.

ESPERS

ESPERS

Year 2004 saw a small explosion of folk acts ranging from free to acid. Devendra Banhart and Animal Collective returned stronger than ever, but among the most interesting new artists was the Chicago group Espers, which includes the brilliant Greg Weeks. Driven by a deep cello and twilight tone, their self-titled debut was the most dramatic and moving folk effort of the year.

SHUGO TOKUMARU

NIGHT PIECE

This is one of the only foreign-language albums I've loved in a while that hasn't felt foreign to me. I mean, you hear the vocals and can plainly hear that they are in Japanese, but it never really occurs to you to wonder what he's saying, or even to think that you don't know what he's saying. Something in the songwriting, the quiet nocturnality of it, seems familiar and homelike, and the syrupy mix blends together to create the sound of what we'd know had always been hidden away somewhere at night, close by but quietly out of the way, had it ever occurred to us to hold still for just a damn second and really listen.

THE FUTUREHEADS

THE FUTUREHEADS

The Futureheads' debut is a pretty wonderful surprise after their forgettable demo recordings: a completely solid album that plays like a best-of compilation of a band with thirty years' worth of material to pick from. One after the other, each song is perfectly written, perfectly executed, every contingency planned for. You ask, is there something in this album's cocksure olde-fashioned punk-rock swagger for the barbershop-quartet fan deep down somewhere in one of our less popular organs? Look no further than the immaculately detailed three- and four-part harmonies in pretty much every song on this pretty much undislikable album. "A to B", "Decent Days and Nights", "The City Is Here For You to Use", "Carnival Kids", "He Knows", "Man Ray", the Kate Bush cover, "Hounds of Love", this is an album that doesn't quit, straight up to the truly pained little scream that marks its end. Bona fide as hell.

MINUS STORY

THE CAPTAIN IS DEAD, LET THE DRUM CORPSE DANCE

This is everything that a debut record should be: shaky but impassioned, and with a voice all its own. From the swells of the opening number to the exhausted return trip of the closer, this record bursts with the energy of discovering, exploring, and owning one's medium all at once, and sounding like they're enjoying it the whole way through, while leaving something big unexplored for next time.

LE FLY PAN AM

N'ECOUTEZ PAS

With this album, Le Fly Pan Am leaped out of Godspeed You! Black Emperor's inadvertently oppressive shadow and into their own spotlight. They are no longer a side-project; they are the project. N'ecoutez Pas, Le Fly Pan Am's newest about-face in aesthetic, might be their most accessible album to date, if certainly not their most focused and structured. Though that doesn't say a lot if you've heard their former records; and N'ecoutez Pas might be the most damaged, scatter-brained record I loved this year. It's full of fractured experiments that go right for the gut; Le Fly Pan Am does everything bizarre successfully.

DEVENDRA BANHART

REJOICING IN THE HANDS

THE MOUNTAIN GOATS

WE SHALL ALL BE HEALED

John Darnielle's second full-fledged studio album is, well, more of the same. But after 415 individual songs written and recorded and scattered across a veritable smorgasbord of full-lengths and EP's and compilations, more of the same is downright amazing. Especially when "more of the same" is as good as We Shall All Be Healed is-- it, in fact, features some of Darnielle's most outstanding songs to date: the hundred-Danielle chorus of "The Young Thousands" and the just downright blissful "Palmcorder Yajna", among others. WSABH is sleek and beautiful, is a mole, is reflective tape on our sweatpants. Get in the god damned car.

MICE PARADE

OBRIGADO SAUDADE

SUFJAN STEVENS

SEVEN SWANS

ROGUE WAVE

OUT OF THE SHADOW

ANIMAL COLLECTIVE

SUNG TONGS

As you know, Sung Tongs is: sun-drenched, psychedelic, beautiful, triumphant, vast, remarkable, Paul Simon meeting with Brian Wilson over a bit of No New York, organic like campfire singalongs but with laptops, catchy, pop-accessible but uncompromising-experimental, most lovable Animal Collective album yet, FIN. And that's true, but too obvious, and this record deserves better. 'Cause Sung Tongs' acoustic guitars sound like they are being played like harps by fairies; spectres melt and fade away or a chorus of furry animals go apeshit. The lyrics are oftentimes indecipherable, senseless wordplay, but be damned if they didn't catch on like wordless heathen chants during a tribal ceremony. But it is not so: there is no orchestras, no mass, for the voices are mere apparitions, and there are only two djinni are behind the curtain. But that's rendered moot when Sung Tongs whirs to life; could it be anymore electrifying? Any more emotionally bracing? It seems there's no stopping the Animal Collective: who knows what they'll do next.

SONIC YOUTH

SONIC NURSE

THE GO! TEAM

THUNDER, LIGHTNING, STRIKE

It seems unsurprising that many of my favorite records of 2004 pulled music out of its politics-laced, angst-ridden funk and made it fun. The Animal Collective struck gold with naive, Dada-lovin' nature and Brian Wilson imported his masterpiece from the 1960s and dropped it into 2004's din. Now the Go! Team strut in, with cheerleaders a-dancin', horns blaring into climaxes and choruses like Warner Bros. jazz caricatures from 1944, old school beats, obfuscating density, retro TV shows, morning cartoons, and a shit-kicking Japanese chick named Ninja. They merge live instrumentation with samples like Who Framed Roger Rabbit? does cartoon animation and live actors. And they continue the insistance that everything is alright: its pixie-stick high triumphs over all caustic politics. It was so great, in fact, that its detractors doubt its treble-charged, candy store euphoria like tragic wannabe-Volitaires. If the Go! Team are not superheroes, here to topple over the bad guys and get everyone back into the groove, then they are the very least Roger Rabbit.